It's one day after a full moon. The sea sparkles as a harbor pilot boat from Port Tampa Bay takes a 45-minute ride into the Gulf of Mexico at 3 a.m.

The pilot works an immensely important job, guiding huge ships under the Sunshine Skyway Bridge, up Tampa Bay, past Davis Islands, and through Seddon Channel — this day in the dark with only the moon to light the way while most of Tampa sleeps.
It's a job that Pilot Carolyn Kurtz works with grace and a demeanor that perhaps only a woman can, a guardian of international ships coming into Tampa's downtown.

Kurtz is the first and only female harbor pilot working in Tampa waters; she's an expert at navigating the massive loads of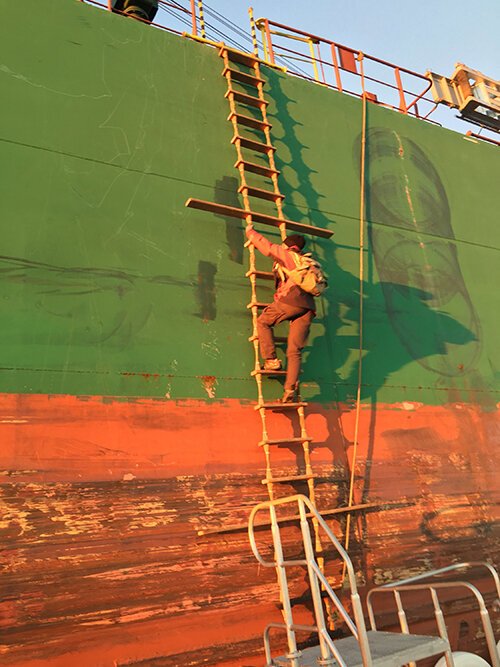 Carolyn Kurtz climbs onto a bulk cargo ship, part of her daily duties as a harbor pilot.cargo past other marine traffic, lighthouses, tiny islands, and sea creatures — all dependent on the tide and the weather.

On this clear night in June with an 83 Degrees Media journalist tagging along, the harbor pilot boat pulls right up alongside an 857-foot Chinese shipping container, longer than Tampa's tallest building by almost 300 feet.

A Chinese crew worker tosses a rope ladder over the massive ship's edge down to Kurtz. The two boats move together with the sea. She reaches up carefully, wearing specially made gloves, grasping one hand onto the rope, releasing the other hand from the handrail of the pilot boat. This one transitional move between boats is potentially fatal with the threat of being crushed between ships and tossed about in the air and on the sea. Yet she's done it thousands of times to help bring in America's everyday supplies, from Brazilian orange juice to pineapples to fuel and furniture from far away places like China, Japan, Israel, and Switzerland.

"You always have to be careful," Kurtz says. "It's dangerous. Transitioning is the most dangerous part."
Safely on board

She arrives on the ship to scents from the Far East, coupled with the familiar smell of the sea. Words on the elevator are written in Chinese, and artwork adorning the ship's interior gives glimpses of China. The crew of more than two dozen men on a ship that moves 3,000 containers around the world offers her and her guest a choice of steaming pots of green tea or coffee.

"Ninety percent of everything we own comes from China," Kurtz says, referencing a book she read.

Twenty-one of the crew members are asleep, while four follow Kurtz's commands as they and their ship arrive in Tampa Bay. The men have been out at sea for 63 days before entering the Gulf of Mexico, traveling from Mumbai to Shanghai, through the Panama Canal to Houston and, finally, reaching Tampa.

Yang Yi Jun, the captain aboard the ship says Kurtz is only the 2nd female pilot he's ever encountered, the first being Nancy Wagner in San Francisco.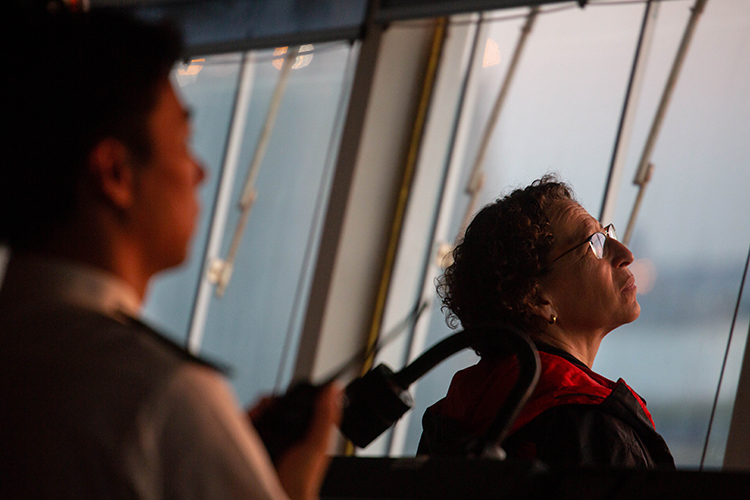 Harbor Pilot Carolyn Kurtz carefully guides a Chinese ship into Port Tampa Bay.Kurtz and Wagner are among the first of 10 female harbor pilots in the United States (only one other works in Florida) and responsible for the safe navigation of cargo ships, tankers, cruise ships, and other international vessels.

When Kurtz was young, captains often were surprised and sometimes weren't happy when she boarded their ships. According to ancient traditions, it was considered bad luck to have women aboard a ship, let alone navigate them.

"Being a female harbor pilot is more normalized these days," she says.

Kurtz started as a chief mate in 1992. She was in her late-20s. There were no female captains back then.

Then Wagner became the first U.S. female captain, breaking the proverbial glass ceiling. Wagner, an inspiration to Kurtz, graduated from the U.S. Merchant Marine Academy in New York, the same school from which Kurtz later graduated. Wagner became a pilot in 1990, working San Francisco Bay. Kurtz started training to be a pilot in 1995 and has been doing it ever since.
Earning respect

Today Kurtz oozes competence and confidence, and rarely faces a challenge she can't handle. She has moved ships more than 3,700 times in 24 years working as a harbor pilot.

While it rarely happens these days, there have been occasions over her career in which she has received less-than-a-warm
reception for being female.
"One captain just didn't understand why I wasn't at home having babies," she says.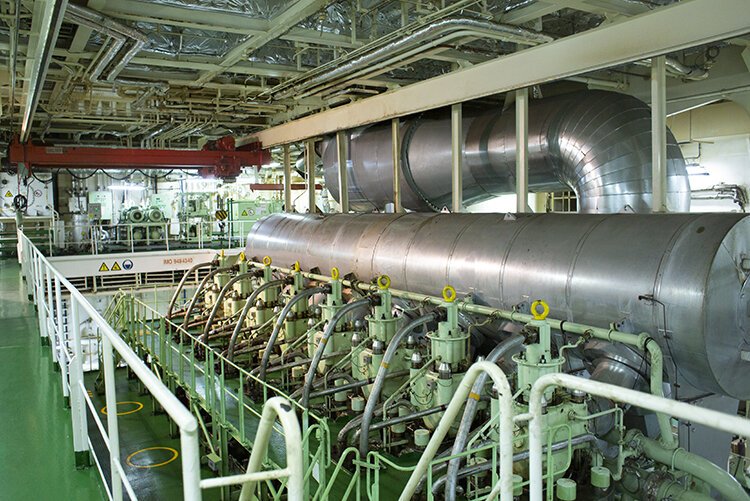 View from inside the engine room of the ship navigated by Carolyn Kurtz.

She thought to herself, 'That's pretty risky insulting your pilot before we get to the dock,' but she shrugs it off.

"I have a ship to drive," she says. "It's not my problem; the drama, the issues, the mindset." She focuses on the task at hand.

"A big part of the job is putting the captain at ease," she says. "Even if he's not receptive, I'm what he's got. Trust is vital, especially in case of emergencies."
Because she's been at it so long, many captains know her well, admire her ability to pilot their ships through tricky seas without incident, and thus welcome her aboard with friendly greetings. Some even extend a brotherly hug. They've known her for years.

"We greet like old friends," Kurtz says.

One crew of 36 men, affectionally say to her, "Little Pilot, Big Ship," when she arrives on board.

The camaraderie is a global connection that Kurtz enjoys seeing among various countries working together to bring vessels in safely.

"I like meeting people from all over, and eating food from everywhere," Kurtz says. "I get to travel without leaving home."

She's been offered orange juice from Brazil, food from India, Thailand, Italy, the Americas, Turkey, Greece, Russia, and the Philippines, all on ships making their journey into Tampa from international waters.
Love for Tampa
Kurtz moved to Tampa in 1992, when Florida was more provincial, less sophisticated than bigger cities.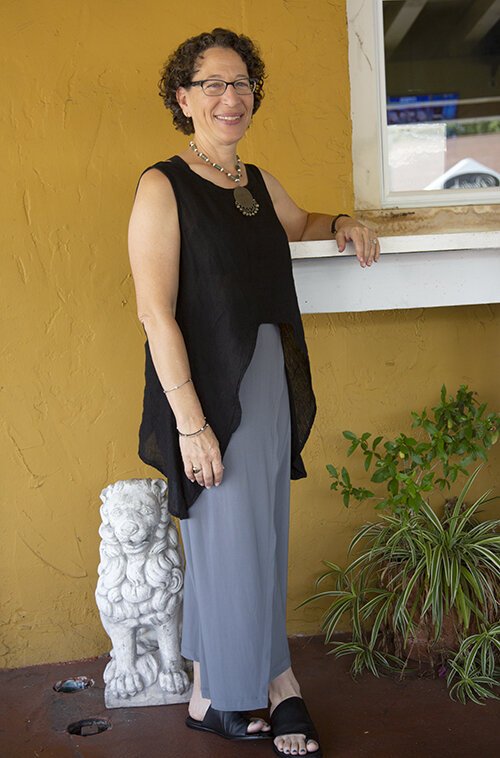 Harbor Pilot Carolyn Kurtz off-duty."Many of the locals seemed more real here, less transient than in other beach communities," Kurtz says about Tampa. "This felt more like a real city."

She loves the walkability of the Hyde Park neighborhood in South Tampa, and the mostly favorable weather year-round. "I've always felt more at home here," she says.

She also expresses a love for Tampa's port, that it's a long port (as in distance to the Gulf), which means working a long shift, allowing her to focus on navigating one ship per day, versus multiple. She likes that the port offers more variety, navigating past islands and under the Skyway.

Into the harbor

Back onboard the Chinese vessel, a Panama Canal light flickers at the edge of another boat as it approaches. Kurtz gives numerical commands to the captain from China, Yang Yi Jun.

"Cosco Istanbul is now approaching Egmont Key," she says. "Heading to the Skyway bridge at 4:40 a.m., with a 30-foot clearing under the Skyway."

It's a smooth ride under the Skyway in the largest shipping container at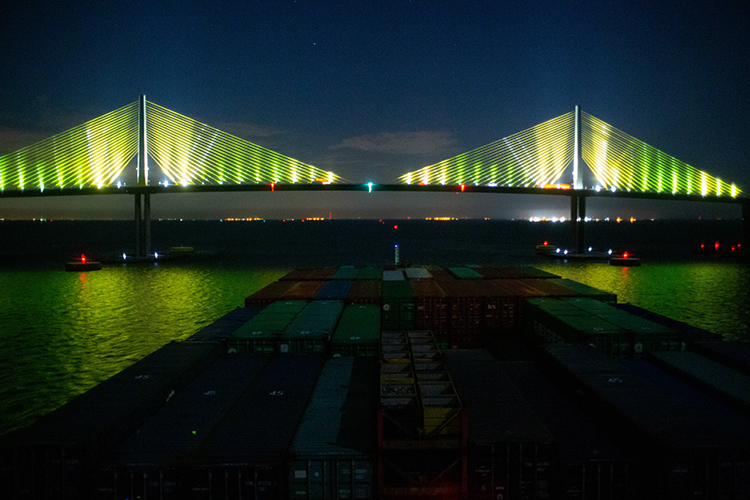 A Chinese container ship guided by Harbor Pilot Carolyn Kurtz glides under the Skyway Bridge with a 30-foot clearing.sea. They glide under the majestic glowing lines of a lit-up Skyway bridge before sunrise. She sometimes describes the job as "moving the beast," truly a guardian at sea.

The captain then relays commands given by the pilot to his crew. International law requires someone who can speak English on the crew of every ship.

The sun rises on one side as the full moon sets on the other. Small tugboats let off black hazy clouds of smoke and fumes while pulling and pushing and stopping the massive ship.

"Dead stow ahead," she commands. The ship's captain repeats her orders to his crew.
"Stop the engine," she says.
The captain again repeats her commands to his crew.
They dock at the Port of Tampa Container Terminal without error. It's almost 7 a.m.

"I have job satisfaction," Kurtz says. "Every successful transit just feels really good, especially when you move in a big beast like that, and you land gently, and the captain is happy."

Voyage home
There are times after docking and exiting a ship, she says, when she looks up and is really taken aback by the vessel's massive size.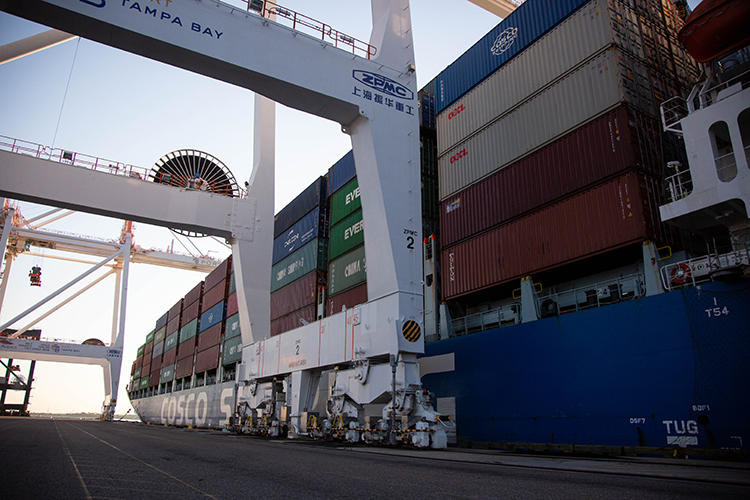 A portion of the container ship docked by Carolyn Kurtz."Wow, that's a really big ship," she thinks and sighs, grateful to be stepping back on land.

There, Cab Driver Bill Radcliff hangs out at the Port to pick up pilots to take them back to their cars to go home after their journeys. He pulls up alongside Kurtz as she stands near one of the largest ships Tampa receives.

"Most of the crew members say she's one of the most professional of the whole group," he says.
He shares a story about Kurtz he heard from a helmsman.

"She comes on board, and she takes over," the helmsman said. "I'm not complaining. I appreciate that she does that. Well, that's what she's supposed to do."
A different kind of pilot

She's careful not to come across as arrogant, or uncompromising, even under extra tense situations.

"Women get the job done as effectively — if not more than men — by not trying to act like men doing the job," she says. "I'm a big believer in 'please' and 'thank you,' and very seldom raise my voice on a ship. It's not an effective way to get what you want. It's better to be polite and respectful, and not overbearing on ships."

Beyond piloting massive ships, Kurtz also knits, crochets, and makes jewelry. "I'm sorta crafty," she says.